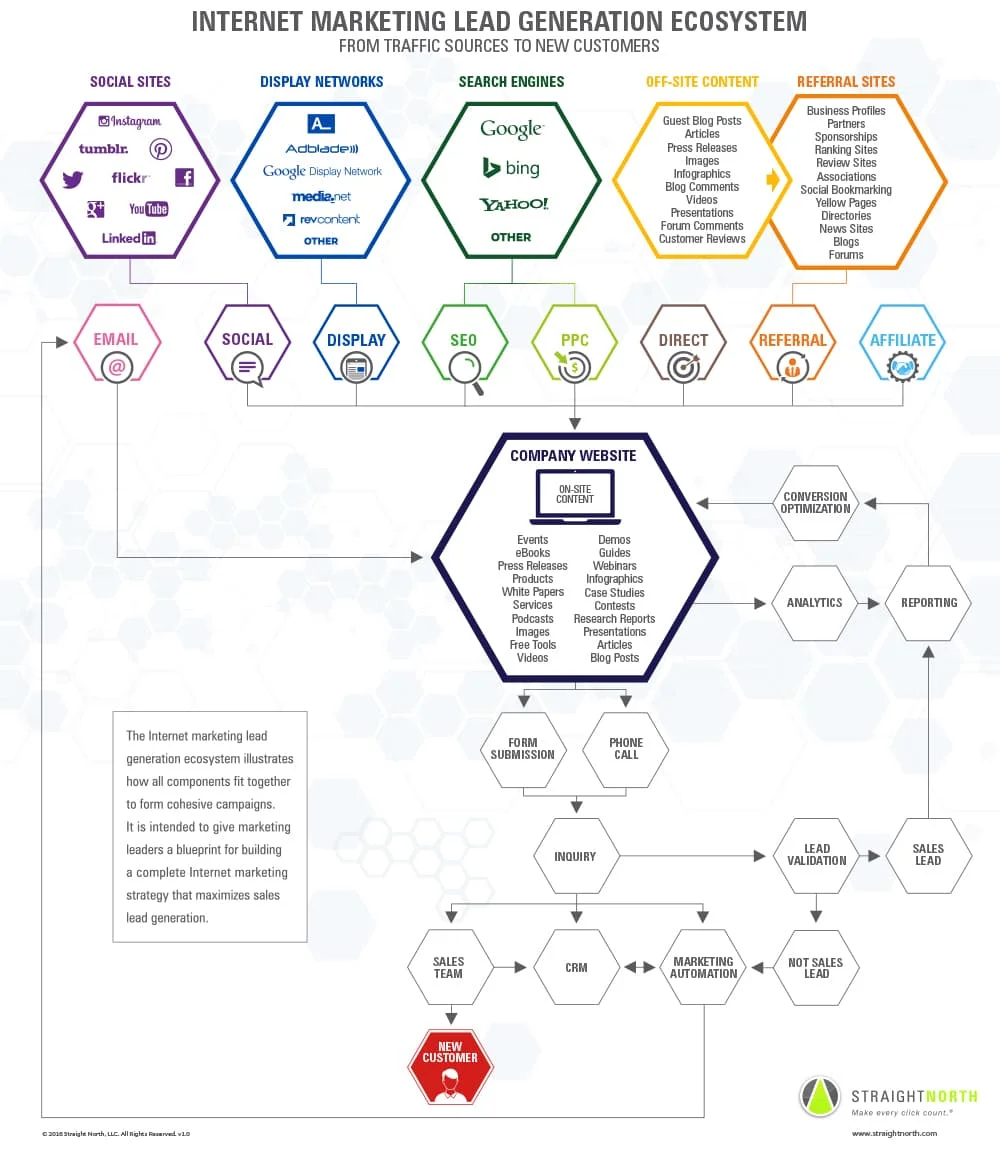 Infographic created by
Straight North, a PPC management company
Any business that has been engaged in SEO, PPC or some other form of online lead generation marketing knows one thing: It's complicated! Best practices seem to change on a daily basis, and while the technology seems simple enough on the surface, once you actually dig into a campaign, it rapidly becomes nearly incomprehensible.
To help simplify matters, Straight North, a PPC management company, created the infographic below, the Lead Generation Ecosystem. It presents a high-level picture of online lead generation marketing, and can help you:
• Identify new opportunities to generate more leads
• Identify gaps and missing components of your marketing campaigns
For an example of the first point (new opportunities), let's look at the second row of hexagons. There are eight types of lead generation campaigns — have you explored all of them? Many companies get locked into one or two, when it could be that the third or fourth is the real winner. Smart Internet marketers allocate a portion of their annual budget to testing different campaigns.
For an example of the second point (gaps and missing components), let's consider the two hexagons just below the company website — FORM SUBMISSION and PHONE CALL. Are you tracking both? Many companies keep track of form submissions because Google Analytics makes it super easy. Phone tracking is a different matter; it requires special expertise to set up and manage. However, if you don't track phone calls, you don't know what prompted them, and thus have no idea how well your campaign is paying off. Smart companies track form and phone submissions back to their marketing source.
I hope our infographic helps you take your lead generation to a higher level, as early as today! Review it now:
Author Bio:
Brad Shorr is Director of Content Strategy at Straight North, a B2B Internet marketing agency that specializes in SEO, PPC and Web design. His articles on sales and marketing have appeared on scores of leading online business publications including Entrepreneur, Forbes and Moz.